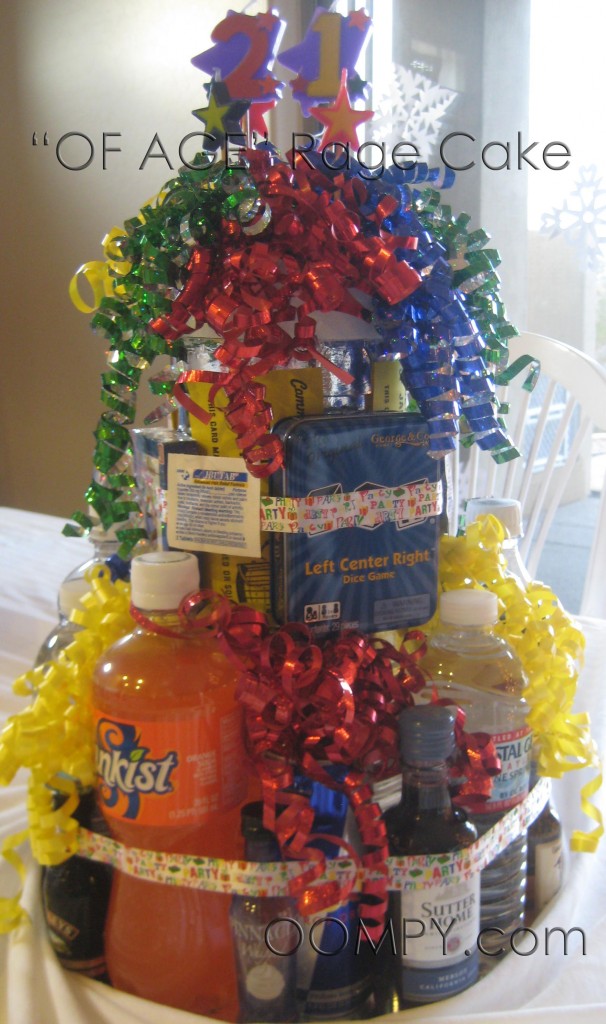 "OOMPY" pick: "OF AGE" Rage Cake
From: OOMPY crafty with food
A cake made of drinks and gambling?  Yes…please!!  Celebrate becoming a legal or "OF AGE" adult with this tower of sin!! Happy 21st Birthday!!

Items needed
"Get the Party Started"
Rootbeer Float ("Vanilla" Absolute vodka mini and A & W Rootbeer)
Orange Creamsicle ("Whipped" Pinnacle mini and Sunkist)
Raspberry Lemonade ("Raspberry" Smirnoff mini and Simply Lemonade)
Captain and Coke (Captain Morgan Spiced Rum mini and Coca Cola)
White Wine (mini Sutter Home White Zinfandel)
Red Wine (mini Sutter Home Merlot)
Tequila Rose (mini Strawberry cream liqueur with a splash of Tequila)
Baileys ( mini Original Irish Cream)
Water (a MUST have)
"For the morning after"
Red Bull (Lightly carbonated energy drink)
Iced Vanilla Latte (Seattle's Best premium coffee drink)
"Decorations and fun stuff"
LCR game
2 decks of playing cards
4 Ibuprofen packets
curly ribbon(assorted colors)
"Happy Birthday" ribbon
4 "Get out of jail FREE" cards (

Get out of jail FREE card

)
large coffee or vegetable can
Silver cardboard cake plate
silver treat box (6″round)
Round styro-foam disc)
4 Star candles
"2" and a "1" candle (to make 21)
Hot Glue Gun and glue sticks
21st b-day Specials Drink Menu(

Drink Menu

)
Instructions
Hot Glue the coffee or vegetable can to the center of the cake plate.  Place soda and mini alcohol bottles according to the drink menu and hot glue into place, add "Happy Birthday" ribbon (tack into place with hot glue).  Next, hot glue the round styro-foam disc to the top of  the lid of the treat box, then hot glue the treat box on top of the coffee or vegetable can.  Hot glue the "Get out of jail FREE" cards to the treat box then hot glue the LCR game, playing cards, Ibuprofen and ribbon.  Add the star and number candles to the styro-foam disc (hot glue for added support).  Finally, add curly ribbon to fill in the empty space.
Don't forget to print and include the drink menu above.  Here is a sneak peek…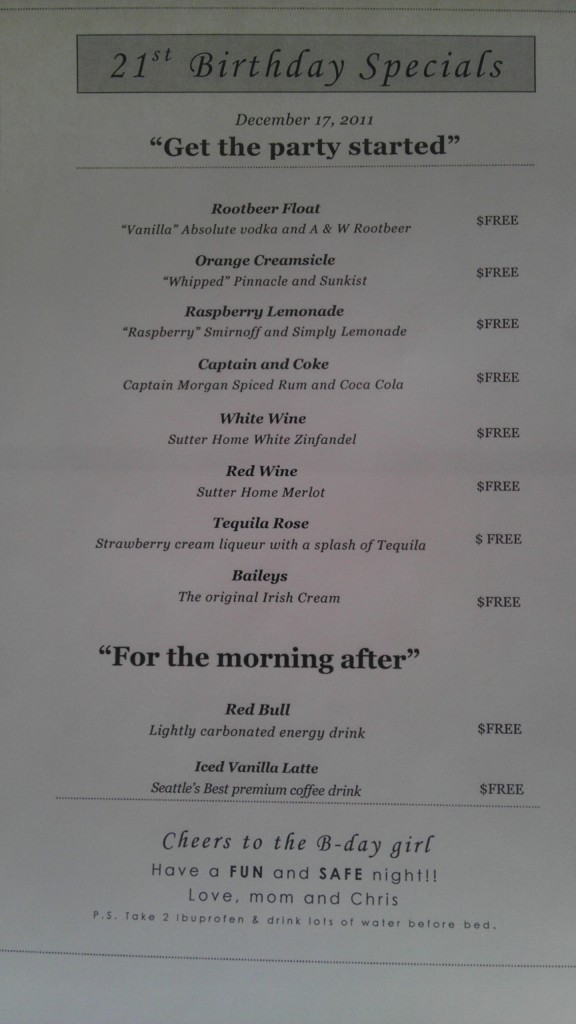 That's it…the

"OF AGE"

party goer is ready for a night of drinking and gambling…safe at home!!