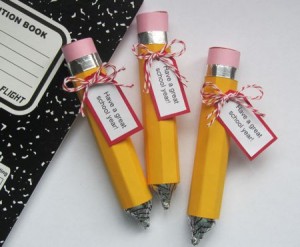 "OOMPY" pick: Candy Pencils
Crafty with food-From: Thrifty and Thriving
Items needed
Rolo's
Hershey Hugs (or Kisses)
Yellow and Pink Cardstock
Foil
Glue Dots
Ribbon or String
Craft Scissors w/ Pinking Edge (optional)
Instructions
Pull the Hershey's label out of the Hug or kiss
Use the glue dots to attach the Hershey's Hug to one of the ends of the Rolo
Cut about a 1″ thick pink strip to add to the top of the Rolo to resemble an eraser. Cut a circle and attach it to the top to finish it off.
Cut a piece of yellow cardstock to wrap around the Rolo's. Fold it about an quarter of an inch over and over to create the crease marks for the pencil, and then attach it to the Rolo's
Cut a thin piece of foil to cover the part where the yellow and pink overlap, this works as the metal portion of the pencil.
Lastly, you can attach a note to the finished product with a ribbon or string.