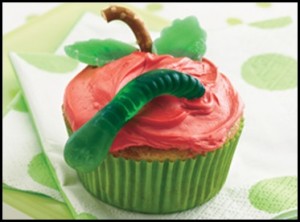 "OOMPY" pick: Apple Cupcakes
Crafty with food-From: Dining with Debbie
Items needed
• Cupcakes
• 1 box yellow cake mix
• 1/2 teaspoon ground cinnamon
• 1 cup apple juice
1/3 cup unsweetened applesauce
3 eggs
Frosting
1/2teaspoon red paste food color
1 container (1 lb) vanilla frosting
Decorations
12 thin pretzel sticks, broken into pieces
16 spearmint leaf gumdrops
12 gummy worm candies, cut in half, if desired
Instructions
Heat oven to 350°F for shiny metal pans (or 325°F for dark or nonstick pans). Place paper baking cup in each of 24 regular-size muffin cups.
In large bowl, beat cupcake ingredients with electric mixer on low speed 30 seconds. Beat on medium speed 2 minutes, scraping bowl occasionally. Divide batter evenly among muffin cups.
Bake 18 to 22 minutes or until tops spring back when lightly touched. Cool 10 minutes; carefully remove from pan to cooling rack. Cool completely, about 30 minutes.
Stir paste food color into frosting in container. Spread frosting over cupcakes.
To decorate cupcakes, poke 1 pretzel piece into each cupcake for stem. Cut each gumdrop leaf into 3 slices. Poke 2 gumdrop leaves into top of each cupcake on either side of pretzel stem. Poke half of gummy worm into each cupcake.