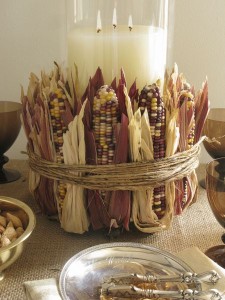 "OOMPY" pick: Indian corn Centerpiece
From: Eddie Ross
All you need for this centerpiece is a simple burlap runner to complete the look of your dining room table, entry table  or fireplace mantle.
Items needed
Cylinder vase (7″ in diameter by 18″ tall)
Sand, gravel or solar salt (enough to make 4″)
Three-wick candle (6″ x 6″)
15 ears Indian Corn (approximately 8″ in length)
Floral Clay
Spool of jute twine
Instructions
Fill a simple cylinder vase with sand, gravel or solar salt.
Tie each ear of corn with twine to hold in the husks.
Apply floral clay to the twine or jute then adhere the ears to the glass. Don't worry if they fall off at first; it's just a simple way of adhering the ears before tying them more securely. Alternate colors and make sure you tie them evenly around, so the twine lines up.
Trim the husks on a diagonal, so they feel more even but still natural.
Tie twine all the way around, knot it tight, then wrap around about 12 times in all.