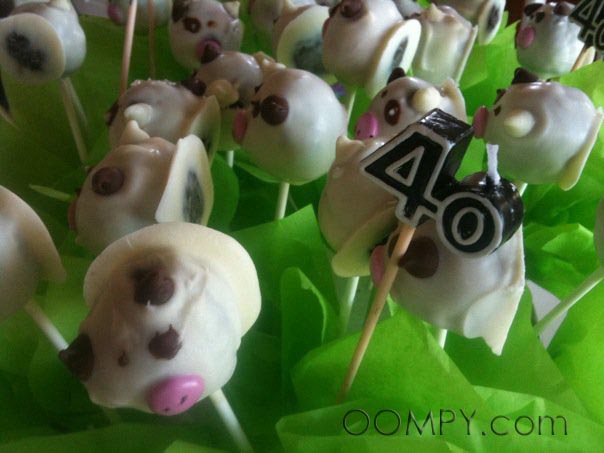 "OOMPY" pick: "Holy Cow" pops
From: OOMPY crafty with food
"HOLY COW"… you're turning 40!?!  Help put the birthday boy or girl

"out to pasture"

with these

"moo-velous"

cow pops!!
Items needed
Cake pops (at least 40 of any flavor)
White almond bark
Mini chocolate chips
Pink M&M's
Black edible marker pen
"40" birthday candles
Green tissue paper
Black bucket
Foam blocks (to fit inside bucket)
Hot glue gun
Instructions
Heat a handful of chocolate chips in the microwave for about 30-60 seconds.  You will use this for the eyes.  Also heat the white almond bark according to the package directions.
Dip the cake pops in the white almond bark and immediately add chocolate chips (ears) and pink M&M (nose)
Add a small amount of chocolate to one side (eye) and slightly larger amount to the other side (eye)
When dry…add two dots to the pink M&M
Voila…a cute little cow is born!!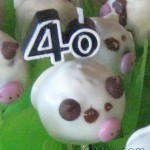 5.  Arrange foam blocks to fit in the bucket and hot glue into place.
6.  Hot glue the "pasture" (green tissue paper) onto the foam blocks.
7.  Place the "40" candles randomly.
Now you are ready to add the cows to the pasture…like this…