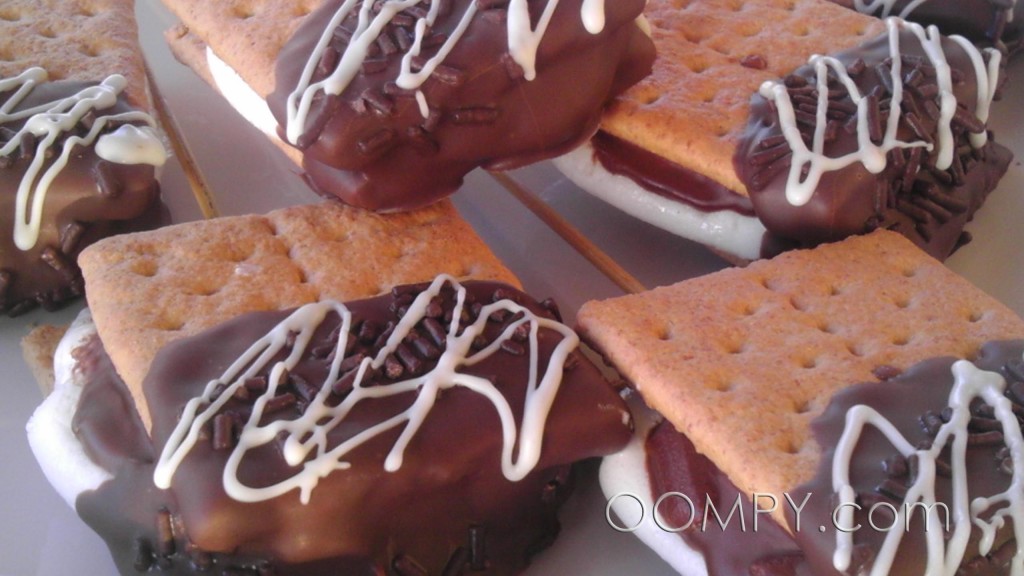 "OOMPY" pick: S'mores…on a stick
Inspired by: Jen loves Kev
Got campfire?  NO…you say!?!  How about an oven or toaster oven?  YES?  You're in luck!!  You can satisfy that s'mores craving in a jiffy with this one.
Items needed
6 graham crackers
2 Hershey chocolate bars or chocolate chips
6 marshmallows or mini marshmallows
2 squares chocolate bark (chopped)
Chocolate sprinkles
1 tsp canola oil
6 bamboo skewers
Instructions
Break graham crackers in half and line side by side on a cookie sheet.
Top 6 of the crackers with marshmallows and 6 of the crackers with chocolate

like this.

Broil for 2-3 minutes, or until the marshmallows are lightly browned and the chocolate is shiny.
Remove from oven and immediately top the marshmallow half with the chocolate half.  Add bamboo skewer and lightly press down on the cracker to secure.
Line baking sheet with wax paper.
Heat chocolate bark in microwave for 30 seconds, stir and microwave for an additional 30 seconds. Stir 1 tsp canola oil into the chocolate and then dip the s'mores and add sprinkles. Place on baking sheet lined with wax paper for the chocolate to set.
Number of servings (yield): 6
Enjoy your s'mores now or put them in individual treat bags for later