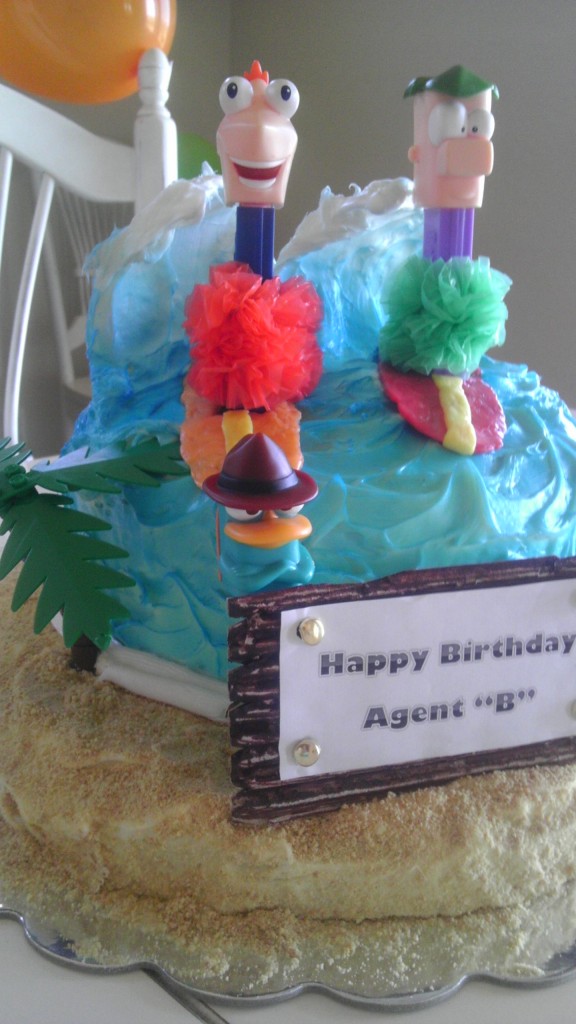 "OOMPY" pick: Phineas and Ferb "Surfing Tidal Waves"
From: OOMPY
Items needed
Phineas and Ferb & Agent P. PEZ dispensers
Starburst candy
Graham Crackers (crushed)
12′ cake
8′ cake (x 2)
White frosting
Cake base
Wax paper
2 Styrofoam cups
Blue color mist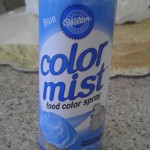 Instructions
Place 12′ cake on cake base, add frosting then crushed graham crackers…I used my mini chopper for this part but you can also put the crackers in a bag and mash by hand or with a rolling pin.

Place one of the 8″ cakes on top of the frosted and "sanded" cake. Frost the middle, then top with the other 8″ cake.

Cut a piece of wax paper to cover the 12″ cake, then cut a smaller hole to fit the 8″ cake. Frost the 8″ cakes.

I knew I had a challenge on my hands when my daughter asked for "Phineas and Ferb surfing a tidal wave"…so with some research I found

this video

on how to make waves…YAY!!
Frost the "waves" and place on the 8″ cake.  HINT: Keep the wax paper on until you spray the cake.

Spray on the blue color mist, remove the wax paper and…viola…you have ocean WAVES ready for surfing!!

I wrapped a "lei" around each one of the PEZ dispensers to resemble a grass skirt. (You can find the PEZ dispensers at Wal-Mart)

I made the surf boards out of starbursts softened in the microwave for about 20 seconds. I molded and rolled it until it resembled a surfboard shape, added a stripe in another color, cut a whole for the PEZ dispenser to fit through and stuck it in the cake.
The "Happy Birthday" Agent "B" is made out of a scrap piece of cardboard that I colored with a brown marker.
Add Agent "P", some plastic trees and the birthday message and you're done. What I thought was going to be impossible, ended up pretty easy…whew!!
Here is a view from the top…